The birth of an international Internet hub – establishing the first IX in the Middle East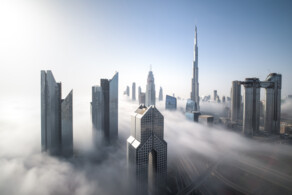 To remain competitive, constant developments and innovations are necessary – because of the increasing data movement and importance of interconnection, this also means the development of interconnection for companies and entire regions. A new study published by DE-CIX explores what comprises an international Internet hub, using the last ten years of the UAE-IX powered by DE-CIX, and its impact on the UAE, as an example.
But first, let's look back at what Internet connectivity was like in the UAE in the year 2012 – the following interviews tell us that this was a time when the interconnection market was not present in the Middle East and the existing interconnection activities were carried out only via telecommunications companies. 90% of data traffic that should have been exchanged locally had to be forwarded through Internet Exchanges in Europe. Even though the data throughput was much lower than today, there was a lot to improve in terms of the user experience.
Watch the video below to see an expert discussing the interconnection market in UAE 10 years ago.
10 years of UAE-IX: The past